THE MISSION OF INTERLINK SELF-HELP CENTER IS TO PROVIDE A SAFE ENVIRONMENT IN WHICH THOSE OF US FACING OUR MENTAL HEALTH CHALLENGES CAN IMPROVE OUR QUALITY OF LIFE THROUGH SELF-HELP, MUTUAL SUPPORT AND EMPOWERMENT.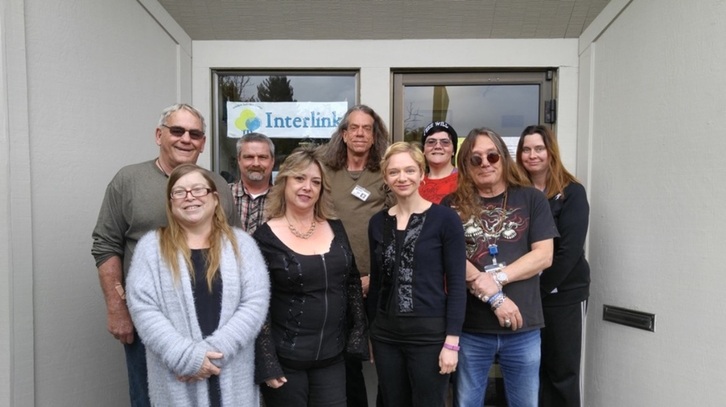 Who We Are

Interlink Self-Help Center is open to all community members 18 years of age and over, as a program of Goodwill—Redwood Empire. We offer support for self-directed mental health recovery, and wellness. We are peer managed and operated, in that our programs and services are provided by individuals with lived experience facing their own mental health challenges. All of our services are offered free of charge.

Services Include:

· One to One Peer Support
· Socialization Opportunities
· Support and Education Groups
· Indoor and Outdoor Activities
· Co-Occurring Disorders Groups
· Internship Opportunities
· Community Resources
· Client Forums

Brief History

Opened in 1996 through the efforts of a group of individuals with lived mental health experience along with other community advocates and partners concerned with the lack of peer managed and operated mental health services, Interlink Self-Help Center opened it's doors! This peer managed and operated mental health self-help recovery program
was founded on the principles of the Mental Health Self-Help Recovery Movement which advocates for meaningful involvement in every aspect of the mental health system from a "Nothing About Us Without Us" stance. With the knowledge that people can and do recover from psychiatric challenges, and with Hope, Self Determination, Choice, and Rights Protection in mind, Interlink was created to respond to multiple life needs, as a safe place that offers self-help, peer support, and empowerment opportunities to those of us dealing with emotional challenges and the stigma and discrimination that has traditionally accompanied and compounded such challenges.

Interlink Activities:

Music Group, Game Days, Barbeques, Movies, Birthday Celebrations, Arts and Crafts in our Open Art Studio, Volunteer Recognition Events, Local Outings to Galleries, Museums, The Sonoma County Fair, and more!

Support & Education Groups:

A daily Community Meeting is held where we share announcements and all have an opportunity to check in. We offer a number of support groups, such as In-Depth support, Coping with Anxiety, Managing Depression and Mania, and Dealing with Post Traumatic Stress.
We have a number of educational offerings, such as our ongoing Introduction to Peer Support classes, Let's Talk About Mental Health, Aprendiendo Juntos/learning together, Taking a Closer Look at Mental Health, and our Resource Group.

Membership Council:

Membership Council Representatives are elected by Interlink members via elections held at general membership meetings. The Council meets weekly, provides input and feed-back on our programs, services, and other issues affecting our community including activity and event planning, grievance resolution, and governance issues. Council members take turns co-facilitating our general membership meetings and process suggestions from our suggestion box.

To become a member of Interlink Self-Help Center, just come in and let staff know you are interested in learning about what we have to offer and would like a tour. During the tour you will have the opportunity to become familiar with Interlink and learn about the center. After having a tour, if you feel comfortable and think the center will be helpful to you, come back and we will do a member sign-up session. This provides us with information that will help us to suggest what support groups and staff persons might be most beneficial to you. But the choice is yours, you know whats best for yourself. Make it happen! A copy of Interlinks Support Groups and other activities are on this web site under Group Schedule. Take a look.

You are invited to come and visit us to find out what Interlink Self-Help Center is all about. We always look forward to meeting new people in the community, giving them a tour of the center and letting them know what we have to offer.

below is a list of Hotlines, Warm lines, Etc.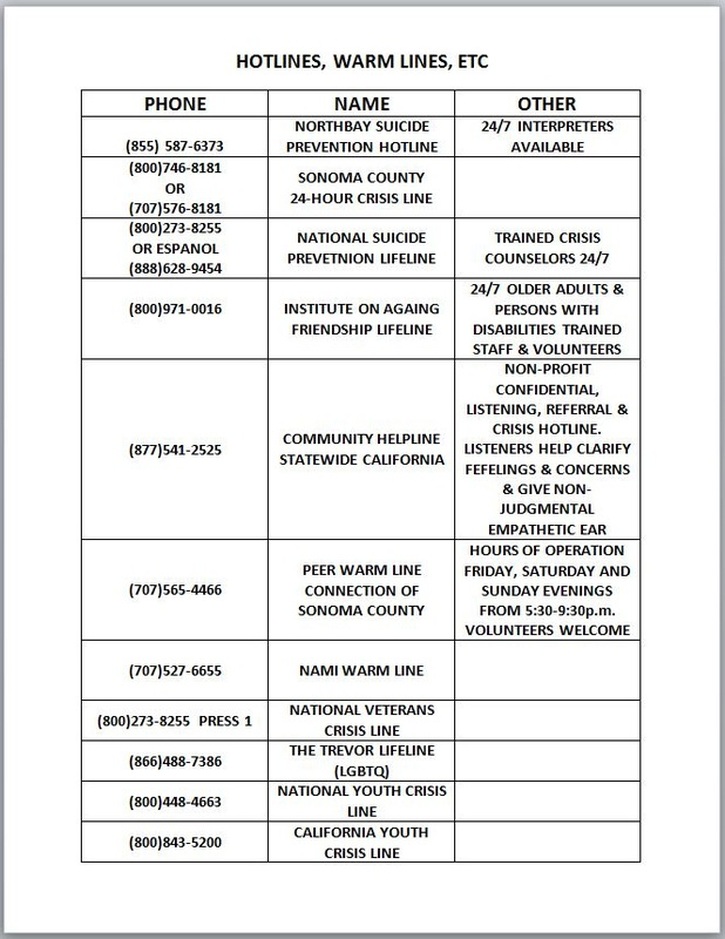 Interlink is consumer* operated and is funded by the Sonoma County Behavioral Health Division as a program of Goodwill Industries of the Redwood Empire.
www.gire.org
---